Committee Members
Kyle Daniel
Nursery and Landscape Industry Representative
Nursery and Landscape Outreach Specialist
Department of Horticulture and Landscape Architecture
Purdue University
daniel38@purdue.edu
Phone: 765-494-7621
Term expires December 2026
Jeff Ling
Chair
RCA #337
Arborwise
PO Box 6553
Fort Wayne, IN 46896
260-402-6016
Jud Scott
Consulting Arborist LLC
Rich Blankenship
Mark H. Holeman Landscape Architects and Contractors
7871 Hague Road
Indianapolis, IN 46256
317-849-3120
Assignment: The 10th edition of the Guide for Plant Appraisal encourages the formation of a Regional Plant Appraisal Committee to maintain and update regional information providing accurate data to facilitate the use of the Guide. The assignment for the committee included:
Identify the largest commonly available (wholesale) nursery-grown tree. Which was done through state-wide surveys, compiled and analyzed. Nurseries which responded indicated 3 1/2 " is the most commonly available nursery grown tree and 10' is the most commonly available nursery grown conifer.
Determine regional cost information relative to wholesale price of the largest commonly available nursery-grown tree and the costs for shipping, install and maintenance for that tree for one year. Unit cost for application in the Trunk Formula Technique (TFT) would be $37.71 in Indiana.
Define species ratings for common Indiana trees to facilitate the application of depreciation ratings.
This information will be updated as needed by the committee as needed or indicated by the Council on Landscape and Tree Appraisal. The Indiana Arborist Association would like to thank the committee for their time and effort assisting industry professionals.
Indiana Guide for Rating for Landscape Trees — This list contains a sample of plants in the landscape that grow in Indiana, including native and non-native selections. A single rating has been supplied for the state and may vary based on location within the state. This is not meant to be inclusive but, rather, representative of the majority of species found commonly in the urban forest. The ratings represent comparative values for species found in Indiana with consideration given to climate adaptability, growth characteristics, site adaptability, tolerance to biotic and abiotic challenges.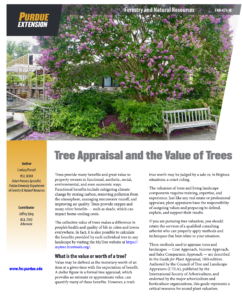 Tree Appraisal and the Value of Trees —Trees provide many benefits and value to property owners in functional, aesthetic, social, environmental, and even economic ways. Functional benefits include mitigating climate change by storing carbon, removing pollution from the atmosphere, managing stormwater runoff, and improving air quality. Trees provide oxygen and many other benefits – such as shade, which can impact home cooling costs.
The collective value of trees makes a difference in people's health and quality of life in cities and towns everywhere. This Purdue Extension publication describes methods used to appraise trees and landscapes that can determine their value and worth, reasons why a tree should be appraised, the factors that go into tree appraisal, what appraisal ratings mean, and sample scenarios.
Conditional Statement
It is the opinion of the IN RPAC that the 10th edition of the Guide for Plant Appraisal is the authority for plant appraisal and we recommend referring to the guide when conducting professional consulting services. This product is a baseline for species based on common limitations. It is incumbent upon the consulting arborist to determine the appropriate rating for each species.